M. E. L. T.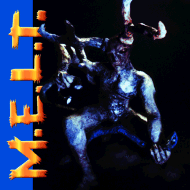 1.M.E.L.T.
2.Stillwater
3.Harrowed man
4.Alpha et Omega
5.I´m in the back of your mind
6.Steps
7.Smells like teen suicide
8.This side of the truth
9.Fratricide
10.Ceremony after a fire raid (part 3)
11.Moment in time
12.Nr. 1 (Live)
Including HIGHLANDER TV-Themes "Alpha et Omega" and "Steps" broadcast in 80 countries worldwide.
Featuring:
Arne Klewitz – Drums
Christian Huhndorf – Bass, Vox
Frederic Hauschild – Guitars, Vox, Keyboards
Marcus Testory – Vox, Guitars, M.I.N.G.
A European band expressing their respect and adoration for the earth in their music and work, influenced by the members' different cultures, taste, origin and experiences, their passion for nature, mysteries and the celtic culture.
The music may be described as Gothic Grunge as well as the result of anything ever happening in popular rock culture. M.E.L.T. singer Marcus Testory plays the role of 'Caspion', the 4th horseman of the Apocalypse, in the international TV-Series 'Highlander'. The M.E.L.T. titles 'Alpha et Omega' and 'Steps' were produced for the TV-Soundtrack.