A Wedding Anniversary – Best of
1.A Wedding Anniversary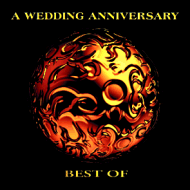 2.Monks of the isis
3.Sex ' Paranoia
4.Ceremony after a fire raid (part 1)
5.The man from the hills
6.Grain of truth
7.In my craft
8.Epilog (previously unreleased)
9.Age of lies (previously unreleased)
10.Harrowed man
11.Atlantis
12.Prolog
13.To others than you
14.All in a week´s day
Contains previously unreleased material and Smash Hit, 'THE MAN FROM THE HILLS'.
Featuring:
Christoph Aschauer – Drums, Vox
Isi Bauer-Feldman – Bass, Vox
Valentina Grigorov – Vox, Keyboards
Juergen Kern – Guitars, Vox
Marcus Testory – Vox, Guitars
Founded in 1988, A Wedding Anniversary could be described as one of the leading influences for the French Gothic – and Independent scene. Their live gigs with Fields of the Nephilim, their wonderful compositions (incl. underground radio hit 'The man from the hills'), based on late Eighties New Wave culture and last but not least their fable for the poet Dylan Thomas make A Wedding Anniversary a band with a great future. This compilation shows the story so far.