The Pawnbrokers – The Sun session
1.All mama's children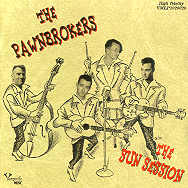 2.Feelin' bad
3.Get rhythm
4.Higher
5.Shake around her
6.T-model boogie
7.That don't move me
8.Great balls of fire
9.I don't care if the sun don't shine
10.Love my baby
11.Put your cat clothes on
12.Milkcow blues boogie
13.Right behind you baby
14.Caldonia
15.Good rockin' tonight
16.Rebound
17.Everybody's tryin' to be my baby
18.I don't care if the sun don't shine (outtake)
Featuring:
Yildi Ray – Vocals & rhythm guitar
Gee Age – Doghouse bass
Patsy – Drums
Mack – Guitar
Four rock'n'roll musicians came together for a session in October 1997 to have some fun in a studio with the Sun songs on their mind that really moved them. The guys picked their instruments, lots of drinks and suddenly it happened: From the first notes the band was rockin', boppin', stompin'n'groovin'. Really gorgeous! The result was such an overwhelming tape that everybody listening to it was extremly excited feeling that this stuff is real big. If you listen to the tunes from up-tempo-rockers like 'Shake around' and 'Right behind you baby' to the real wild blues rocker 'Feelin' bad' you can be sure that this band knows exactly what to do to catch the feelin' of the originals. For vintage freaks: If you listen very closely (we're sure you will) to 'Caldonia' you can hear the whacky sound of the guitar caused by the tubes of the late Fifties Rogers amp. getting hotter than the band!