M. E. L. T. – Alpha et Omega
1.M.E.L.T.
2.Alpha et omega (Original TV Version)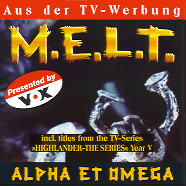 3.Steps (Original TV Version)
4.Follow my voice (Original TV Version)
6.This side of the truth
7.The mystery of foreign affairs
NEW Highlander TV Series Season 5
ON AIR SINCE 13th Feb. 1998
OVER 100 MCG TV-SPOTS ON AIR!!!
NOW EVERY THURSDAY EVENING ON
Featuring:
Arne Klewitz – Drums
Christian Huhndorf – Bass, Vox
Frederic Hauschild – Guitars, Vox, Keyboards
Marcus Testory – Vox, Guitars, M.I.N.G.
M.E.L.T. – A European band expressing their respect and adoration for the earth in their music and work, influenced by the members' different cultures, taste, origin and experiences, their passion for nature, mysteries, the celtic culture. The music may be described as Gothic Grunge as well as the result of anything ever happening in popular rock culture. M.E.L.T. singer Markus Testory plays Caspian, the 4th horseman of the Apocalypse, in the international TV-series Highlander – the Series Year V. The M.E.L.T. titles Alpha et omega, Steps and Follow my voice are included in the TV-Soundtrack. Testory is former member of the gothic band A Wedding Anniversary, well known for the radio hit, 'The Man from the hills'.