Buck Jones – Shimmer
1.Wasted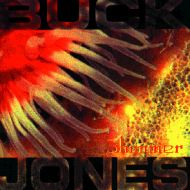 2.The boy with the mechanical heart
3.Statue
4.Nameless
5.T.J's Rocket
6.Underground crown
7.Primer grey
8.After today
9.Beautiful free
10.Night and day
11.Neon orbiter (Part II)
12.Aged
13.Sunlight (You walk by)
14.Silverlush
plus (unlisted 'hidden tracks') Zac's Rodes (non-music interlud), Nameless (Radio Edit)
-Nominated for five 1998 Dallas Observer Music Awards for album of the year, best rock act, best act overall, most improved act and best female vocalist
-Received two 1998 FW Weekly Music Awards for best modern rock artist and best female vocalist; Nominated for four other categories.
-Received 1997 Topaz Award.
-Strong and consistent touring throughout the USA.
Top-drawing new rock quartet BUCK JONES from Texas takes a huge leap into the big-time with their Sophomore release 'SHIMMER' on their new label MCG Whampire Records. Shimmer follows up the band's debut album (Shoegazer – 1996) with 14 phenomenal new recordings that put them in the running for major national success. Producer David Castell (Deep Blue Something, The Nixons, Course Of Empire, etc.) fattened up the band's musical attack and combined it with the unique male/female vocal blend of husband-and-wife front persons Burette and Gabrielle Douglas, creating a distinctively dense yet melodic rock sound for the next millennium.
Key tracks most surely include the seductive 'NAMELESS', as well as flat-out rockers such as 'T.J's Rocket' and 'Underground Crown'. Also suitable for radio play are the tracks 'Aged' and 'Silverlush', making the album a contender for multiple singles and a long shelf-life. 'NAMELESS' is also available as a shortened Radio Edit at the end of the album in the form of a 'hidden track' for added programming flexibility. Shimmer should break BUCK JONES wide open at new rock radio in the southwest. Their strong, sexy live shows should't hurt them either, so expect to hear a lot from BUCK JONES in the near future.