Killer Brew
1.Do me like you do me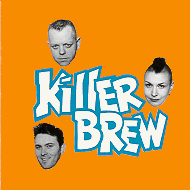 2.All night rock
3.Shattered dreams
4.Victory roll
5.Trouble bound
6.Wore me to a frazzle
7.That's the way
8.Special brew
9.Who's been sitting in my chair?
10.I fell in love
11.My little baby
12.One track mind
13.The other side
14.Shooting star
Killer Brew is Darrel Higham, Ricky Lee Brawn and Helen Shadow, a trio who have blended to form a lethal cocktail that combines the very best musicianship with accomplished songwriting skills, resulting in a wild new hot rockabilly combo that's about to set the world alight.
Featuring:
Ricky Lee Brawn – Vocal, drums
Helen Shadow – Vocal, rhythm guitar
Darrel Higham – Vocal, lead guitar
Pat Reyford – Drums, bass, tenor sax, steel guitar
Anders Janes – Bass, piano
Introducing a new trio of well-known characters from the hepcat scene. These three strong spirits have blended to a mixture of established favourites and self-penned originals, along with the very best musical ability and showmanship available, plus a harder hitting Sun-influenced sound. All in all, a most intoxicating cocktail. Pour yourself a large one now! Recorded using vintage recording technology to capture that fat sound they commit to wax one of the hottest rockabilly sessions ever.
Remember, there's a limited edition 10-ich version in pink vinyl, available exclusively through Vampirella mailorder!