Carlos Peron – Powertrancefer
1.Planets are modulating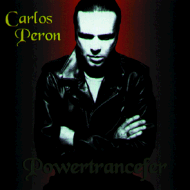 2.Starpowder
3.Refrigorexed
4.Powertrancefer
5.Tranceducer
6.Electrophunk in space
7.Supernova shock
8.Sol-sync
9.The Biocomputer
10.Pluto out of tune
11.M63 is calling
12.Our god vox
Produced by Carlos Peron
Style: Techno/Industrial
Er bezeichnet sich selbst als den 'einzigen legitimen Nachfolger von Evita Peron', verfügt ansonsten über aussergewöhnliche – und belegbare – musikalische Referenzen und gilt als ebenso schillernde wie ruhelose Persönlichkeit:
Carlos Peron, die Techno-, Sex- und Fetisch-Kultfigur, Liebling der Kritiker von Independent Magazinen bis Bildzeitung und Dauergast unzähliger TV-Sendungen zum Thema Industrial- und Fetischszene.
Begonnen hat alles in den 60er Jahren: Auf halbem Weg zum ausgebildeten klassischen Flötisten hängt Carlos die Flöte an den Nagel und arbeitet sich durch die Schaltkästen und Relaisstationen elektronischer Musik. Zwischen Soundgeneratoren, Tape-Recordern und alten Moog – Synthesizern lässt der experimentierfreudige Soundtüftler die Sounds zischen und zirpen, was ihm mit Boris Blank und Dieter Meier gleichgesinnte Partner beschert, die das Bandprojekt in eine Richtung beeinflussen, an deren Ende YELLO steht. Nachdem er mit den legendären Topsellern 'Solid Pleasure', 'Claro Que Si' und 'You gotta say yes to another excess' Musikgeschichte geschrieben hatte, widmet sich Carlos zahlreichen Projekten, die Ihn in der Techno-und Fetischszene auch als Solokünstler weltberühmt machten.
'Powertrancefer' ist eine Sammlung rarer Hits in von Fans verzweifelt gesuchten Versionen, garniert mit unveröffentlichtem Material, in denen sich Carlos erneut als richtungsweisende Legende beweist.
He designates himself as the one and only 'legitimate descendant' of Evita Peron, he disposes of extraordinary musical references and he is worldwide well-known for his iriscendent as well as restless personality:
CARLOS PERON, the cult figure of leather, sex and fetishism.
Born in Einsiedln, Switzerland, little Carlos did it his way: after a short but intensive romance with classical flute he discovered the freaked world of electronic music. Together with his partner in mind, Boris Blank, he started to make bleeping sounds only an extraterrestian could dance to – apart from a strange bohemianesque guy called Dieter Meyer. This was the beginning of the ringing with YELLO, and it turned out to be more than a 'Solid Pleasure'. When CARLOS PERON left the crucial three-piece in 1984, the musical map of the world has changed: YELLO's mind-melting mixture of urban dance patterns, chilled-out-pop-tunes and an highly visionary video-art put their place in pop-history in safe keeping.
'Powertrancefer', a fine bunch of rarities, hits and more obscure trance items, covers all styles of CARLOS PERON's solo-work – starting with exercises in intelligent ambient music to more over-sized Techno-Kitsch. Between that sharpened edges CARLOS PERON proves his ever-lasting passion for all kinds of modern grooves: 'Powertrancefer' is completed by CARLOS' delight in more playful, even decorative sounds.