Juke – Swing it!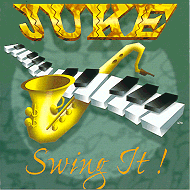 1.Someday you're gonna treat me right
2.Be sharp
3.Big Mo
4.Goin' fishin'
5.All night boogie
6.Bop baby bop
7.Trundle those tabs
8.Jailhouse rock
9.Tequila
10.Juke's back in town
11.Boppin' for kicks
Juke from the UK is one of the most exciting swing bands in the world with first class showmanship, highest quality musicians showing what this style is all about. They do Swing, Bop, Jive and Jump Blues the way it should be performed and these cats have a certain sense of humour that made the original Big Bands popular in the Thirties, Forties and Fifties.