The Jive Sharks – It's joogie!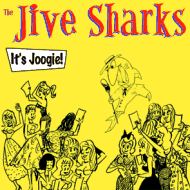 1.Chicken shack 2.Party girl
3.All of me
4.Choo Choo Ch' Boogie
5.Why don't you eat
6.Barnyard Boogie
7.You better believe it
8.Early in the morning
9.Roberta
10.Pin-up girl
11.I had a dream last night
12.Jump, jive and wail
13.Jive shark Boogie
14.Chicken shack II
15.I don't like it
16.It's joogie!e and wail 13.Jive shark Boogie
The Jive Sharks are the result of a jam session drummer Kevin Mc Laughlin did with Brian Setzer at the Supper Club in L.A. The band members backed B.B.King, Big Jay Mc Neely, Supercharge and many more and listening to this CD you'll experience that Jive can't get much better than this.