Elvis – still alive – Volume 2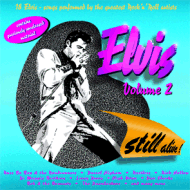 1. Russ Be Bop And The Roadrunners – That's alright
2. Rick Hollow – I love you because
3. The Jive Sharks – Love me tender
4. Leroy Davis – I'll never let you go
5. Restless – A mess of blues
6. Pawnbrokers – Good rockin' tonight
7. Bob And The Bearcats – Shoppin' around
8. Al Holden – Tomorrow night
9. High Noon – Just because
10. Darrel Higham And The Enforcers – That's alright
11. Juke – Jailhouse rock
12. Bob And The Bearcats – Put the blame on me
13. Di Maggio Brothers – I don't care if the sun don't shine
14. Southern Bound – Baby let's play house
15. Country cattin' – I'm left, you're right, she's gone
16. Russ Be Bop And The Roadrunners – His latest flame
17. Di Maggio Brothers – King Creole
18. Paralyzers – Devil in disguise (Original movie version)
Most of us who maintain a Rock'n'Roll image as part of our way of life get people shouting 'Hey Elvis' or suchlike at us in the street. Some of us find it annoying, and some of us find it complimentary. Whatever else, it means that a whole era of music and its legacy, along with a whole sub-culture, can be summed up in one word – Elvis.

There has never been anyone like Elvis, and there never will be. It hardly comes as a surprise then that there are a lot of Elvis 'wannabes', and indeed we see some pretty sad overdressed sights in Las Vegas suits these days. There are others, however, who take their love of all things Elvis as a starting point, and in the physical absence of the original Elvis, wish to perpetuate what Elvis started. Among these fans (because that is what they are, make no mistake about it), we find the collection of singers, bands and musicians assembled on this CD to glorify the memory of Elvis.

Some of these, like Restless, have made a name for themselves and created their own sound and style without blatantly being 'Elvis style', while others like Darrel Higham and Marco Di Maggio have partly modelled themselves on Eddie Cochran. However, we all know that none of them would be what they are without Elvis. The acts on this CD, at the same time as being part of Elvis' legacy, show the breath of style that Elvis' Rock'n'Roll encompassed, from the 'roots' Rockabilly of High Noon, through the 'big band' style of Juke and The Jive Sharks, the more Rhythm And Blues styled Roadrunners to the straight-ahead Rockabilly of Bob And The Bearcats, Leroy Davis, Rick Hollow and The Pawnbrokers.
So, slip this CD into your player and suspend belief for a moment. Yes, Elvis IS alive, we won't let him die, and he belongs to us, not the media at large. He was both a creator of and created by Rock'n'Roll, and it's his Rock'n'Roll that's celebrated on this CD, along with the fact that we, as Rock'n'Roll fans, can continue to have a Rock'n'Roll life.
Elvis may have left the building, but not our hearts.
Roy Williams
London, April 2000