Ian Calford and The Brakemen – Strapped for Cash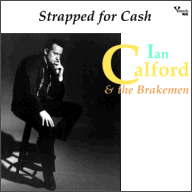 1. When Papa Played The Dobro (Cash)
2. Brakeman's Blues (Rodgers)
3. Hey Porter (Cash)
4. Folsom Prison Blues (Cash)
5. Doin' My Time (Skinner)
6. Boss Jack (Ritter)
7. There You Go (Cash)
8. Frankie's Man Johnny (Trad)
9. Luther Played The Boogie (Cash)
10. Get Rhythm (Cash)
11. New Mexico (Trad)
12. Blue Train (Smith)
13. Pickin Time (Cash) 14. Delia's Gone (Cash)
15. Transfusion Blues (Hogshed)
16. Saturday Night At Hickman County (Cash)
17. Mean Eyed Cat (Cash)
Tracks 1, 6, 8, 13, 15 and 16 are in mono.
"HELLO, I'M IAN CALFORD!"
This album was conceived as a tribute to my two greatest heroes and influences, my father and Johnny Cash. My late father, Alfie Calvert, performed rocking country from the 40s to the 90s as Cal Ford and the Brakemen. I grew up listening to dad singing Jimmie Rodgers, Hank Williams and especially Johnny Cash. I've used the name Brakemen on this project in memory of my dad's old band.
Ian has taken a break from the RAF and his rockabilly band, The Railmen, to record this tribute to two men from diverse backgounds, rural Dyess, Arkansas, USA and industrialised Merthyr Tydfil, South Wales. Cal and Johnny met on several occasions over the decades and became friends. Both were men of integrity, from strong religious working class Celtic families. They shared a common musical vision and Johnny always encouraged Cal to express himself fully. Cal Ford was known throughout UK as the Welsh Johnny Cash.
Over 30 songs were recorded for 'Strapped For Cash' at Chris Cummins' superb Riverside Studios in Blackpool, England. The pure classic Tennessee Two approach was adhered to, even on the tracks from the post Sun era. Ace picker 'Luther' Cummins excels on both the Fender guitar and the dobro, demonstrating that there was far more to the sound of his mentor Luther Perkins' than Boom Chicka Boom! Marshall Grant is similarly honoured by the uncanny rhythmic slap sound achieved by 'Marshall' Stack! Finally, Ian is definitely not a deep voiced Cash 'sound-a-like', instead he performs in his natural singing style throughout this album. Dane Stinit fans look elsewhere! Pete Smith of Country Music Round Up magazine says, "Like his father Cal, Ian is a pioneer of what is fashionably called retro-country but which to me will always be REAL country music!"
The hardest part was choosing which songs from the legendary Cash canon to perform, 10 are from the Sam Phillips Memphis Sun era, 7 from the Columbia years, however tunes from each period, Mean Eyed Cat and Delia's Gone were revisited by Johnny in his latest recordings with American Recordings. Opening cut Papa Played The Dobro will make you sit up straght away. Cash's unfinished Sun demo of Jimmie Rodgers Brakeman's Blues is rounded off fully here. A pair of classic Memphian earthquaking railway songs Hey Porter and Folsom Prison follow, before Jimmie Skinners Doin' My Time from the awesome Sun LP, Hot & Blue Guitar. Then Tex Ritter's Boss Jack from the Columbia concept LP Ride This Train. There You Go sounds just like it did on the Town Hall Party 1957 tv shows. The great under-rated Columbia rocker Frankie's Man Johnny leads into the tongue in cheek poke at the critics, Luther Played The Boogie. Energy levels rise as we zip through Get Rhythm before reverting to the classic country and western epic tale mode for New Mexico on Sun. Like my own favourite, The Blue Train it's often overlooked, but not here!
After going to the church for redemption with Pickin' Time, the ghostly acoustic Delia's Gone death ballad leads us into Roy Hogshed's romping Transfusion Blues. Smell the Spanish moss on the later swamp styled Saturday Night At Hickman County before that Mean Eyed Cat takes us from 50s rockabilly to the 90s Unchained album.
This is a superb, heartfelt and well thought out tribute to the incredible sounds of Johnny Cash and the Tennessee Two. The former fridge salesman and the ex-mechanics changed the face and sound of country music forever.
PHIL DAVIES – Rockabilly Hall Of Fame
Ian Calford – vocals
Marshal Stack – Double Bass
Luther Cummings – Lead Guitar
Dave Machin – Drums (track 8 & 15)
STRAPPED FOR CASH is humbly dedicated to Johnny's enduring battle against the debilitating Shy Drager Syndrome, and the strength he gets from June and his family and his fans around the globe.
Ian's Special Thanks go to Luther, Marshall and Sam. Mam, Claire, Natalie and Joanne, Chris & Andy, Steve & Mark of the Railmen, Lynette & Spike, Patrick, CMRU's Pete, Keith & Roger, Chris Jackson, Rod & Bob at the RHOF and everyone who's encouraged me along the way.
Most of all though, to my dad, as Johnny sang, "Thanks A Lot!"