The Sugar Creek Trio – Jumpin'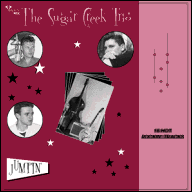 1.Swamp girl
2.All I can do is cry
3.Blue moon baby
4.Beatin' my time
5.Madman
6.How does it feel to be lonely?
7.Can't judge a book
8.Lonesome train
9.Big fat baby
10.The cheat
11.Cry baby cry
12.Got my mojo workin'
13.Sally Ann
14.Don't you do me no wrong
15.Four o'clock baby
Chris – vocals and doghouse bass
Sid – lead and rhythm guitars, backing vocals and sax
Martin – drums, backing vocals, and vocals on track 4
This CD has been compiled not to copy directly the originals, but rather to present Sugar Creek Trio's versions of some classic numbers and some rather more obscure numbers, as the originals are, as we know, the best! The Sugar Creek Trio was originally formed by Martin and Chris, who have worked together for more than seven years in various bands, travelling in the UK and Europe and Rocking Sidney joined them a short while ago.
The Sugar Creek Trio formed in Autumn 1999, although the current line-up has been together only since April 2000. The band are Chris on vocals and double bass, Martin on drums and vocals, and Sid on guitar, backing vocals and sax. Chris started singing in his school band at the age of 15, mainly to impress the girls, but this was only to be short-lived as exams and the school rugby team took priority. At the age of 22, Chris formed Clarksville with Martin and played venues around Oxford, becoming a successful band who commanded a large local following. Clarksville disbanded after 18 months of hard graft and Chris went on to form The Railmen with Ian Calford. He had only played bass for The Railmen for about six months when he was asked to join a band in Sweden called The Reno Brothers, playing on live TV and radio shows in Scandinavia and releasing an album with them.
After two years, Chris found the gruelling schedule too much and decided to leave to settle down again in the UK. He then joined Martin again to form The X Men, a wild R&B band based in Oxford, which successfully took the City by storm. The X Men disbanded due to musical differences, and seemed to be missed by the fans they had gathered. Martin and Chris then went on to form Sugar Creek, which has been rockin' ever since. Chris plays double bass and sings, which isn't normal for a front man. His main inspiration comes from early Elvis.
Martin started playing drums with his twin brother on guitar while still at primary school, following in the footsteps of his father who played drums at his own wedding back in the 50s. Martin played with the Blue Ridge Rockets back in the 1980s, supporting Wanda Jackson in France and even singing with Sleepy La Beef in his local 'The Radcliffe Arms' in Oxford. With the Rockets, he gigged in various venues in France, Belgium and England, appearing on French radio. He then played for a succession of bands, including The Hip Bones (with Sir Bald Diddley), The Frantic Flintstones, Sgt Bilko's Crazy Combo (alongside Happy from King Pleasure and the Biscuit Boys), The Bloodhounds/The Blue Jays, and The Greenville Flyers, to name but a few. He formed Clarksville with Chris and later The X Men before putting together the current line-up of The Sugar Creek Trio, which has established itself on the local scene, playing various venues and rockin' clubs. His influences are Sandy Nelson, Art Blakey, DJ Fontana and WS Holland.
After receiving a guitar for his 12th birthday, Sid dabbled with various styles of music in several bands. At 18, he joined his first rockin' band and got the bug. He has played in various line-ups, including The Fabulous Hudson Hornets, and joined The Sugar Creek Trio in April 2000. His influences are Scotty Moore and Carl Perkins.