Rick Hollow – All dressed up
1.Big love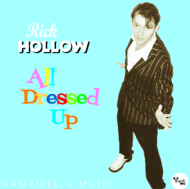 2.Don't stop
3.You make me sweat
4.Be true
5.Don't wanna lose you
6.Waterpoppy
7.No name
8.Whole lotta shakin' goin' on
9.Amazing
10.Bop 'til you drop
11.Out in the street
12.Diamonds are a girl's best friend (featuring Marco Di Maggio)
13.Tonight will be the last night (featuring Marco Di Maggio)
14.Kiss (remastered movie version)
Rick Hollow – Drums, Guitar
Leroy Davis – Vocals, Guitar
Doc Kennel – Doghouse Bass
Marco Di Maggio – Guitar, Bass (track 14 and 15), Vocals (track 15)
Produced by Rick Hollow
Engineered and mixed by Leroy Davis
Recorded in England, Germany and Italy, mixed at MCG Studios
Mastered at Time Tunnel Valve Mastering, email: timetun@aol.com
Here is Rick's second CD, following on from the success of his first. Rick's got that knack of sounding just 'right'. He gathers around him a collection of musicians who understand exactly what he's trying to achieve. His undoubted talent is not just limited to performance. He's involved in his music from the very beginning, writing many of the songs, through the performance and production, mixing and even the mastering and marketing of the final records! This is obviously a man who believes in being in control of his music! However, for those of us who love authentic Rockin' music, there can be little doubt that he's got the right idea, because his method of producing his music ensures that only those who are involved in this music are allowed to get their hands on it. How many projects like this have been spoilt by 'engineers' and 'producers' who have little knowledge of REAL Rock'n'Roll?
Rick also manages to get that 'relaxed' rockin' feel that was best exemplified in the Fifties by the likes of Ricky Nelson. He's obviously spent a lot of time listening to old records and is a man who is deeply in love with that style. Here is a lesson to all those who try to emulate those classic Fifties records. However, Rick doesn't stop with getting the sound 'right' – his songs are tuneful and skilfully crafted. As with the music, the songs are just 'right', and this makes the whole CD 'play' well.
However, it's not just his own songs that he can handle. Listen to how he melds that old standard 'Diamonds are a girl's best friend' into a Rockabilly song. Magic!     In addition to all of this, Rick's a great drummer. He can mix up a great 'shuffle' beat, or even that elusive beat that we old DJs referred to as 'that limping beat', which is SO danceable in clubs. As with everything else on this CD, the drums sound just right. Gawd! They even sound like drums. None of yer 'wet telephone book' here! Just how many records make you want to get up and dance AND sing along at the same time? Not many. This one does. Rick deserves all the success that his music career will undoubtedly bring him.
Roy Williams, London, October 2000
Rick Hollow has successfully experienced every possible aspect of the media business – well known as one of the most passionate workers in the Rock-, Jazz- and Art- scene.
He started his career as musician, tour booker and DJ for numerous clubs, then joined a Radio station, became A&R Manager at famous record company Bellaphon, and his own company MCG.
Hollow is well-known in the industry for his tireless professionalism and almost endless knowledge of Blues, Jazz, Be-Bop, Avantgarde and Rock'n'Roll history and his ability to produce high quality music with a stylish feel for recording technologies from the past.
He became internationally famous for his work as producer, composer and arranger of soundtrack titles for award winning movies, his work for the Grand Prix Eurovision de la Chanson as well as for avantgarde theatre productions.
He has helped to start many aspiring modern art talents and continues to perform as live- and recording drummer for several bands in the tradition of 40's and 50's Jazz.
:: Discography
:: As artist/writer:
Soundtrack Titles: "Die Unberührbare", Winner of the German Movie Award 2000
Grand Prix Eurovision de la Chanson: Project "New Generation" Bellaphon
Rolling Stone Magazine: Swing Special CD Rolling Stone
AMX 40 – Ape: Album Concept of the Avantgarde Album in co-operation with Carlos Peron (Ex-Yello)
• The Struts – "Wherever you are" – Vinyl Single

• The Struts – "Kick It" – LP Rockhouse Rec., NL

• The Struts – Neo-Billy Story LP Rockhouse Rec., NL

• The Struts – Neo-Billy Story CD Rockhouse Rec., NL

• Dicknity – "Dickmann" – M-CD ZYX

• Dicknity – "Dickmann" – Vinyl ZYX

• Techno Trax Vol. 5 – Sampler CD ZYX

• Techno Trax Vol. 5 – Sampler Vinyl ZYX

• Techno Trax Vol. 5 – Sampler Tape ZYX

• Teckbangers Ball – Sampler CD ZYX

• California Cyber Crash Compilation – Sampler CD C.O.P. Int.

• The Offer – "Cover Me" – M-CD Eurostar

• The Offer – "Cover Me" – Vinyl Eurostar

• Dance Unlimited – Sampler CD Eurostar

• Razormaid – Dance Sampler Level 2 CD Razormaid USA

• Sugar Factor" – "DoDoDo" – M-CD DA-Music

• The Offer – "In Flames" – M-CD Bellaphon

• The Offer – "In Flames" – Vinyl Bellaphon

• P.O.Box – "Dancing all night long" – M-CD Bellaphon

• Apollo – "Gunshot" – M-CD, Bellaphon

• Apollo – "Gunshot" – Vinyl Bellaphon

• Apollo – "Gunshot" – Video Bellaphon

• Mastaman – "Wipe Out" – M-CD, Bellaphon

• Mastaman – "Wipe Out" – Vinyl Bellaphon

• Mastaman – "Peter Gunn" – M-CD Bellaphon

• Mastaman – "60´s Styla" – CD Bellaphon

• Mastaman – Released on BlancoY Nero,Spain

• Mastaman – DJ Compilation – CD Dig It, Italy & France

• Mastaman – Hot Hits Compilation – CD Dig It, Italy & France

• Mastaman – DJ Compilation Vinyl Dig It, Italy & France

• Mastaman – Hot Hits Compilation Vinyl Dig It, Italy & France

• Dance X-Plosion – Sampler – CD Bellaphon

• Dancin´ Reggae – Sampler – CD Bellaphon

• Pumpin´Reggae – Sampler – CD Valentine Japan

• Razormaid – Dance Sampler Level 2 – CD Razormaid USA

• Razormaid – Dance Sampler Level 5 – CD Razormaid USA

• Put ya hand on da bumper – CD Barbados

• The Offer – "In Space" – CD New Music

• Leroy Davis "Can´t be satisfied" – CD Polygram

• Leroy Davis "Play it cool" – CD Polygram

• "Elvis – Still Alive" – Various Artists – CD Polygram

• "Elvis – Still Alive" Vol. 2 -Various Artists – CD Sunny Moon

• A Tribute to Buddy Holly – Various Artists – CD Polygram

• Kings Of Rockabilly Guitar – Various Artists – CD Polygram

• The Pawnbrokers – "The Sun Session" – CD Polygram

• The Paralyzers – "Calling Elvis" – CD, Polygram

• The Paralyzers – "Calling Elvis" – Vinyl Polygram

• A Tribute to Carl Perkins – Various Artists – CD Polygram

• Rockin´ at the Topside – Various Artists – CD Polygram

• Slick and Rockin´ – Various Artists – CD Polygram

• Swing, Jive & Wail – Various Artists – CD Polygram

• Wild Men Bop Vol. 2 – Various Artists – CD Polygram

• Wild Men Bop Vol. 3 – Various Artists – CD Polygram

• Wild Men Bop Vol. 4 – Various Artists – CD Sunny Moon

• Wild Men Bop Vol. 5 – Various Artists – CD

• Wild Men Bop Vol. 6 – Various Artists – CD

• Rockin´ at the Jubilee – Various Artists – Vinyl

• Dynamite Magazine 7″

• Di Maggio Brothers – At full speed

• Soundtrack CD "Die Unberührbare"
:: As producer:
• Soundtrack Titles "Die Unberührbare", Winner of the German Movie Award 2000

• The Offer – In Space

• Leroy Davis – Can´t be satisfied

• Leroy Davis – Play it cool

• Rick Hollow – Swing Your Hips

• Rick Hollow – All dressed up

• The Pawnbrokers – The Sun Session

• The Paralyzers – Calling Elvis

• The Hot Riffs – Job done

• The Straight Jackets – King Bee

• The Straight Jackets – Black magic

• Humanimal Bunch – All you can eat

• Tigerlounge – Tigerlounge