The Barcodes – Keep your distance
1. I got news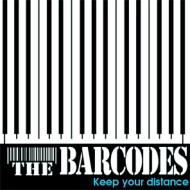 2. Thick cut
3. Crazy life
4. Barcodes theme
5. A little bit more
6. Keep your distance
7. Tell me the truth
8. Splanky
9. That's alright
10. Eyesight to the blind
Bob Haddrell – vocals, hammond organ, piano
Alan Glen – vocals, guitar, harmonica
Dino Coccia – drums, percussion
The Barcodes, formed in the late nineties, are a product of a chance encounter between drummer Dino Coccia and keyboard/vocalist Bob Haddrell on a nightclub date in London's West End. The fact that this club was situated on the site of the now defunct but legendary 'Bag 'O Nails' in Kingly Street may have proved to have been significant. It certainly didn't seem so at the time!!
Having found a lot of common ground musically, this duo started to play small, out of the way, clubs and wine bars on what was left of the fast shrinking music scene in the capital's Soho area. It was tough, but the reaction they got made them feel it was worth it.
Roots, more than anything else, could possibly describe the sound, but it was the addition of Alan Glen on vocals, guitar and harmonica that helped define the sound they produce today: Blue Note with a down home twist.
The dates became more numerous. The venues and audiences more receptive and the natural progression of things led to a recording. As to where to do this, there was only one choice, Roger Cotton's Roundel Studios, in Horton Kirby, Kent, and if that address doesn't have quite the ring about it of, say, Rudy Van Gelder, Hackensack, New Jersey, that certainly didn't, and doesn't, bother the Barcodes. The atmosphere and ambience of those two small oast houses tucked away off London's M25 is unrivalled. Big John Patton, Baby Face Willete, Grant Green, Kenny Burrell – they may have needed Englewood Cliffs, the Barcodes need Roundel. This album could not have been made anywhere else. Having found the ideal place in which to work, they could now call on the wealth of experience they had gained over the years.
Alan Glen is currently a member of the Yardbirds, he worked with Nine Below Zero from 1991 – 1995, the list continues with Little Axe, Dr. Feelgood, Alannah Myles, Dub Foundation and Junior Delgado.
Dino Coccia's credentials are equally impressive. He has worked with James Carr, Larry Garner, Tutu Jones, Katy Webster, John Primer, Andy Shepherd, Alan Barnes, Patrick Moraz, Grace Jones, Homeside James and Lowell Fulson.
Bob Haddrell has worked extensively in the U.S.A, writing in Nashville, working and recording with Billy Swan, Chicago JimmyDawkins and in the UK, along with Dino and Alan, Sonny Black and the Dukes. Bob has largely created the sound of the Barcodes. Hammond organ/bass pedals and Wurlitzer piano are the hardcore of a sound that can switch from a rocky Doors influenced feel to a Blue Note type groove, taking in a little New Orleans rumba, a smattering of Chess, some Acid Jazz and all points along the way. The sound is never forced it just happens to come out that way, and every effort was made to capture just that feeling in the studio. Judicious mic placing, live playing and over dubs in one take, no "dropping in" at any time, all this helped keep it real and uncontrived. Vocals were to remain unfussy, with a particular nod to that doyen of cool, Mose Allison. The final garnish being, on two tracks, the impeccable Nick Newall on tenor sax, Zoot Money's original sidekick in the Big Roll Band.
Reactions have been everything, and more, the Barcodes could have wished for. Excellent reviews have appeared in, amongst others, Jazz Journal, Blueprint, Musician, Blue Matters and Blues Review USA. A copy of the album has been requested by the jazz curator of the British Library National Sound Archive.
Radio play has been extensive, with that icon of Jazz FM Peter Young (P.Y) giving the band much exposure in the early days. The ageless Paul Jones has also given great support on Jazz FM and his BBC2 Blues Show, culminating in a live session in April 2001.
The band itself has been nominated by the British Blues Connection 2001 in four categories: Best Blues Band, Best UK Harmonica, Best UK Keyboards and Best UK Drummer.
The Barcodes are in this for the long run. Get on board!