Simone Di Maggio – Everybody's movin'
1. Party doll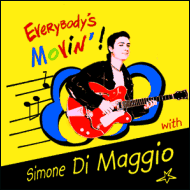 2. Shirley Lee
3. Teenager in love
4. Everybody's movin'
5. Lotta lovin'
6. Milkshake boogie
7. Sweetie pie
8. Miss Froggie
9. Be bop baby
10. Rock'n'Roll Ruby
11. It's so easy
12. Honey hush
13. Teenage heaven
14. Shake it up
Vocals/Lead guitar by Simone Di Maggio
Vocals on track 8 by Marco Di Maggio
Acoustic & electric rhythm guitar, double bass, drums, piano, backing vocals by Marco Di Maggio
Thanks to the Shockabilly Orchestra, featured on track 13:
Tenor sax: Claudio Giovagnoli/Alto sax: Stefano Sala/Trombone: Denis
Sassi/Trumpet: Roberto Papis
Recorded and mixed at MDM Studio, Florence, Italy by Marco Di Maggio and Mario Stefanelli, Winter 2000/2001. Photos by Mario Stefanelli, artwork by Lorenzo Cotrozzi and Digital Factory.
Do you like the Collins Kids? Simone Di Maggio is a young and wild Rockabilly kid from Florence, Italy. His love for Rockabilly music comes from his family – he grew up listening to his father's Rockabilly records. His father (Massimo Di Maggio) and his uncle (Marco) are well-known as the Di Maggio Brothers. On his debut album he plays electric guitar and sings in classic rockin' and Doo Wop tradition, showing a variety of rockin' influences from the likes of Dion & the Belmonts to Larry Collins and Eddie Cochran. Simone plays all over Italy and his name appears on major festivals. Just take a listen to his instrumental, 'Milkshake Boogie' and you know how great this kid will be in the near future.
More bestsellers from the Di Maggio's catalogue.
Di Maggio Brothers – Rockabilly from the boots up
Di Maggio Brothers – At full speed
Marco Di Maggio – Thank you, Eddie (A tribute to Eddie Cochran)
Marco Di Maggio – Superpicking