The Di Maggio Brothers – At full speed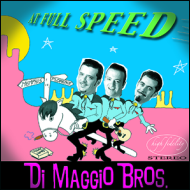 1. At Full Speed
2. Ol' tomcat
3. Emmelina
4. All by myself
5. I don't feel heartbroken
6. I gotta know
7. Oh! By jingo! Oh! By gee!
8. Clam up
9. I will be home again
10. I can't stop lovin'
11. I'm gonna sit right down & cry over you
12. Lonely hours
13. Be true
14. Over the rainbow
After Marco Di Maggios Tribute to Eddie Cochran which proved that he's the most successful guitar slinger, the unbelievable success with the Di Maggio Brothers and his tour with Linda Gail Lewis they deliver an album full of Rockabilly of the highest quality.
THE DI MAGGIO BROS.
The band formed in '97 as the result of Marco and Massimo's love for Hillbilly music. These cats from Florence, Italy know how to shake that shack and after some hot gigs around Italy, they decided to record an album. During the recording sessions Marco Di Maggio sent a demo to BOB TIMMERS (President of THE ROCKABILLY HALL OF FAME). After hearing it he called Marco
offering to produce the album: "ROCKABILLY FROM THE BOOTS UP" was released in the summer of '98 on RHOF for USA and MCG/Vampirella for the rest of the world receiving great reviews from the international press. The band appeared
at top venues and international meetings such as VIVA LAS VEGAS 2000 – 2001, THE JACKSON ROCKABILLY MUSEUM, Jackson,
Tennessee, THE GRAND OLE OPRY/RYMAN AUDITORIUM, Nashville, Tennessee 2001, THE ROCKABILLY RAVE (UK '98 – 'O1) and many more…
The DI MAGGIO BROS. became a great name on the Rockabilly/Country scene, receiving many requests for club gigs and important festivals, touring USA, UK, GERMANY, FRANCE, SPAIN, HOLLAND, SWITZERLAND and many other countries. They appeared on many international rockabilly compilations such as "CASH ON DELIVERY", featuring top American Country stars, "KINGS OF ROCKABILLY GUITAR" and many others.
Since then they have worked with many Rockabilly Legends such as: D.J. FONTANA (ELVIS' DRUMMER), TERRY WILLIAMS (DIRE STRAITS' Drummer), GENE VINCENT's BLUE CAPS, SONNY BURGESS, KEVIN SMITH (HIGH NOON), BILLY SWAN, LINDA GAIL LEWIS, NARVEL FELTS, to name but a few…. MARCO DI MAGGIO has been recognized as one of the world's best guitar players. Their album ROCKABILLY FROM THE BOOTS is the BESTSELLER of the ROCKABILLY HALL OF FAME and BOB TIMMERS says: "With a little luck, the DI MAGGIO BROS. could be the STRAYCATS of year 2000, they have the key to bring rockabilly music to the top."
"Why aren't American groups this good? I predict that "Rockabilly from the
boots" will be the CD of '98" (JOE WAIGEL – LAS VEGAS).
The DI MAGGIO BROS. please the audience with a various set ranging from Western Swing/Hillbilly to pure Rockabilly, strong vocal harmonies, a
powerfull slappin' bass and superpickin' guitar work. Listening to the D.M.B. you can find influences from Elvis' vocal style, country harmonies and brilliant fingerpicking guitar works in Les Paul and Chet Atkins style. This album contains an eclectic mix of originals and newly arranged songs from the music heroes that inspired them to play this music.
The DI MAGGIO BROS.:
MASSIMO DI MAGGIO – ACOUSTIC RHYTHM, LEAD VOCALS on tracks: 1- 3 – 5 – 6 – 9 – 11 -12 – 13 – 14
MARCO DI MAGGIO – LEAD GUITAR, VOCALS on tracks: 2 – 4 – 8 – 10 DOUBLE BASS on tracks: 2 – 3 – 4 – 5 – 6 – 13
MATT GIANNETTI – DOUBLE BASS, BACKING VOCALS
More Bestsellers from the Di Maggio's catalogue:
Di Maggio Brothers – Rockabilly from the boots up
Marco Di Maggio – Thank you, Eddie (A tribute to Eddie Cochran)
Marco Di Maggio – Superpicking
Simone Di Maggio – Everybody's Movin'